What is the Zentangle method?
"The Zentangle Method is an easy to learn, fun and relaxing way to create beautiful images by drawing structured patterns."
The Zentangle® Method was created by Maria Thomas and Rick Roberts. "Zentangle" is a registered trademark of Zentangle, Inc. You can read more about Rick and Maria's story on their official website https://zentangle.com/
I found this decorative style of art attractive as it was similar to the doodles I had already been creating. The use of simple and not terribly imaginative patterns limited my abilities, but I soon learned more complex patterns through the zentangle method and consequently used layering of these patterns to create very interesting pieces of art.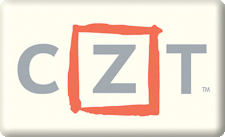 During the month of June 2018, I travelled to USA to become a Certified Zentangle Teacher. It is a privilege to create this type of art and also share my knowledge of this art with others.
Blog Posts
Videos
The easiest way to learn the Zentangle method is to watch someone else demonstrate the drawing process. Face to face classes are a great way to learn any new art or craft but since COVID-19 spread through the globe, these type of tutorials are not always possible. Online courses and video tutorials have become the new 'norm' so an extensive library of video tutorials is now available online. I have drawn on my strengths in teaching and tangling to provide comprehensive instructional videos therefore these are now available on YouTube. Click here for a link to my YouTube channel.
Tangle step outs
In order to draw a tangle there are a series of step by step instructions that you can follow. By using simple strokes of the pen, anyone can follow these instructions to create beautiful works of art. Many Certified Zentangle teachers as well as lovers of this method have come up with new patterns in addition to the patterns that were originally created by the founders of Zentangle. The creators of these new patterns come up with their own set of instructions so that others can others can follow along with ease.
Click here to see the step outs (step by step instructions) of my original tangles.
Gallery
Inspiration often comes by viewing the examples of others. Click here to gain access to a sample of my own original art.
Online Community
One of the wonderful things about the Zentangle method is that there is an amazing online community of likeminded people who love everything Zentangle related.