What is the Zentangle method?
"The Zentangle Method is an easy to learn, fun and relaxing way to create beautiful images by drawing structured patterns."
The Zentangle® Method was created by Maria Thomas and Rick Roberts. "Zentangle" is a registered trademark of Zentangle, Inc. You can read more about Rick and Maria's story on their official website https://zentangle.com/
I was attracted to the decorative style of this type of art as it was similar to doodles I had already been creating. My patterns were simple and not terribly imaginative but I soon learned more complex patterns through the zentangle method and used layering of these patterns to create very interesting pieces of art.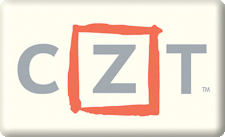 I became a Certified Zentangle teacher in June 2018 and I'm excited to share my knowledge of this art with others.
Classes
For information on classes at my studio – Glenreagh NSW or in the Coffs Harbour District click here.
Blog Posts
Videos
Tangle step outs
Click here to see the step outs (step by step instructions) for tangles that I have designed.
Gallery
To see some of my Zentangle inspired art click here