Hi everyone and welcome to my Art website.
I have always loved to draw and doodle. My drawings were always organic in nature following similar lines to plants or vines growing across the page. I started to experiment with patterns until a friend of mine asked if I had heard of the Zentangle® Method. I did some research and discovered a whole new world.
The Zentangle method was founded by Maria Thomas and Rick Roberts. In June 2018 I traveled from my home in Australia to Providence RI, USA and completed a certification course. I can now proudly say that I am a Certified Zentangle Teacher.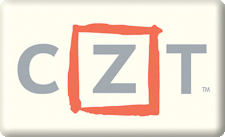 MY TEACHING AND ART JOURNEY
Teaching is not new to me. For 30+ years I taught Primary School aged children in NSW schools.
During this time my love of anything to do with art or craft never waned. I bought brightly coloured pastels and drew beautiful pictures on the chalkboard related to current topics we were exploring. Sadly, the blackboards have been replaced by new, flashy interactive technology.
I took a break from teaching to complete a course in fashion technology where I particularly enjoyed learning about applied design and freestyle machine embroidery. When I returned to teaching I used my newfound expertise to create fun and original costumes for school productions.
Throughout the years I have dabbled in all sorts of Arts and crafts including silk painting, glass engraving and crochet. In doing so I have developed quite a few skills that I would love to share with others.
Since retiring from teaching in schools I have been involved with voluntary work in an aged care facility. My love of the arts and my experience in teaching steered me into the direction of teaching arts and crafts to the residents.
On this website I will share my current projects and lots of handy tips. I will also be creating some easy projects so that you can join in on the fun.
If you ever need a hand or have any questions, feel free to leave them below and I will be more than happy to help you out.
All the best,
Tracy Anne
Founder of Art with Tracy Anne Wilkinson