Celtic knots fascinate me so I have been working on breaking down one of these patterns in order to show you how to draw a Celtic border.
One step at a time
I must confess that I found this task challenging! I have broken down the process into bite size instructions so that you can follow along. Try not to get overwhelmed, take a deep breath and tackle this border by taking one step at a time.
Step out instructions
I have prepared a PDF with diagrams showing each step of the pattern for you to download. It may help to print this out so that you have a reference or save it on your device so that you can zoom in on each step. Have your step-out handy while you follow me as I demonstrate this pattern on my YouTube video. You can pause the video at any stage if I go too quickly.
click on the pictures to download the PDF version of each page.
Video Tutorial
Here is a link to my video tutorial.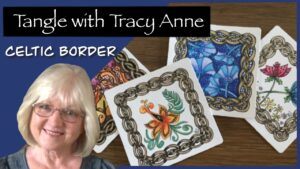 How did you go?
I hope you were able to successfully draw the border. If it didn't work out the first time, keep practising. Use a sketchbook to draw part of the border until you get the hang of it.
Share your results! If you are not already a member of my Facebook group, join us here. This group is a place where you can safely interact with like minded people. It's a place where we can all learn from each other. I look forward to seeing what you come up with.