A dear friend of mine taught me how to paint on silk several years ago. I completed a few paintings then got distracted with other art and craft projects (as I do!)
The aged care facility where I work as a volunteer has a craft storeroom filled with all kinds of treasures. I was rummaging through this storeroom one day when I discovered a huge box of silk painting supplies.
Silk painting supplies
I was delighted to explore this box of supplies and thought it would be a shame not to make use of them.
There were several bottles of silk dye and silk fabric. Not everything you need to do a project but enough for me to bring in some of my tools from home to see if the residents were interested.
Silk painting techniques
For my first silk painting tutorial, I let the ladies do some exploration on scraps of silk in embroidery hoops. They were able to watch how silk dyes bleed through the fabric and how colours react with each other. I drew a simple shape with gutta to demonstrate how each colour can be contained. They played around with this, finding out that if you load your brush too much it will flood through the gutta barrier and bleed into other colours.
To conclude the lesson we used a more free technique of painting to produce a beautiful scarf.
Hand painted silk scarf
I had pinned some silk to a long frame ready for the ladies to experiment. They each chose a couple of colours then took turns at applying the dye to the fabric using an eye dropper. Once the fabric was completely covered in dye, we scattered some salt along the scarf then sat back to watch the magic happen. The result was mesmerizing.
Unfortunately, I didn't take a photo of this piece but here are some scarves that I have painted to give you an example of this fascinating technique.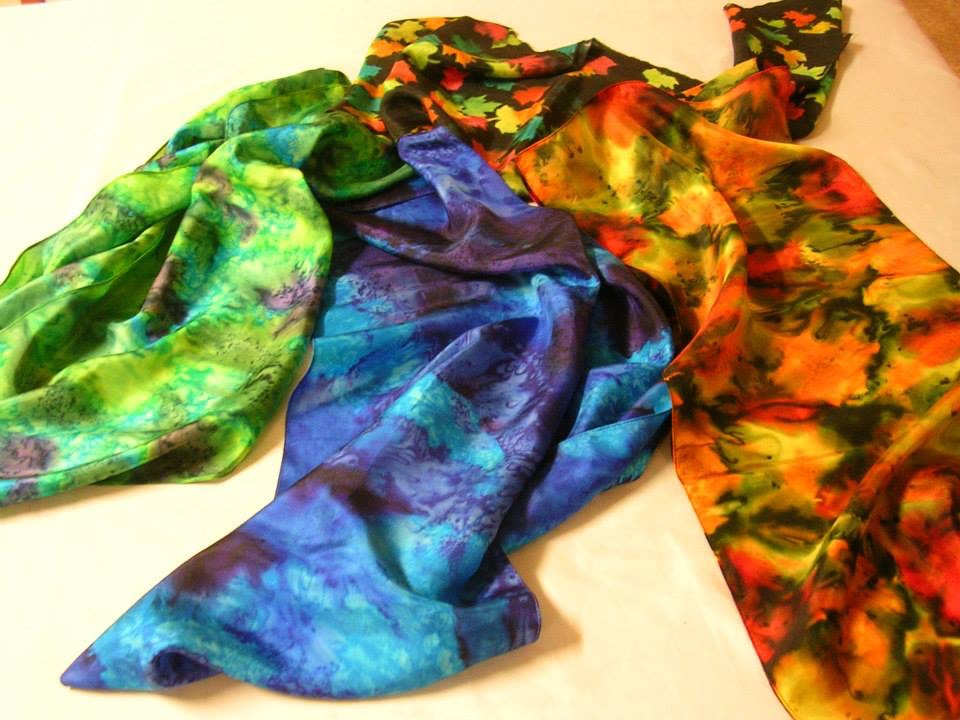 Pre gutta silk
A couple of the ladies were particularly keen to do more painting on silk so the following week we stretched some silk that had been purchased with a gutta outline ready to paint. One of them chose a cushion cover, the other a square scarf.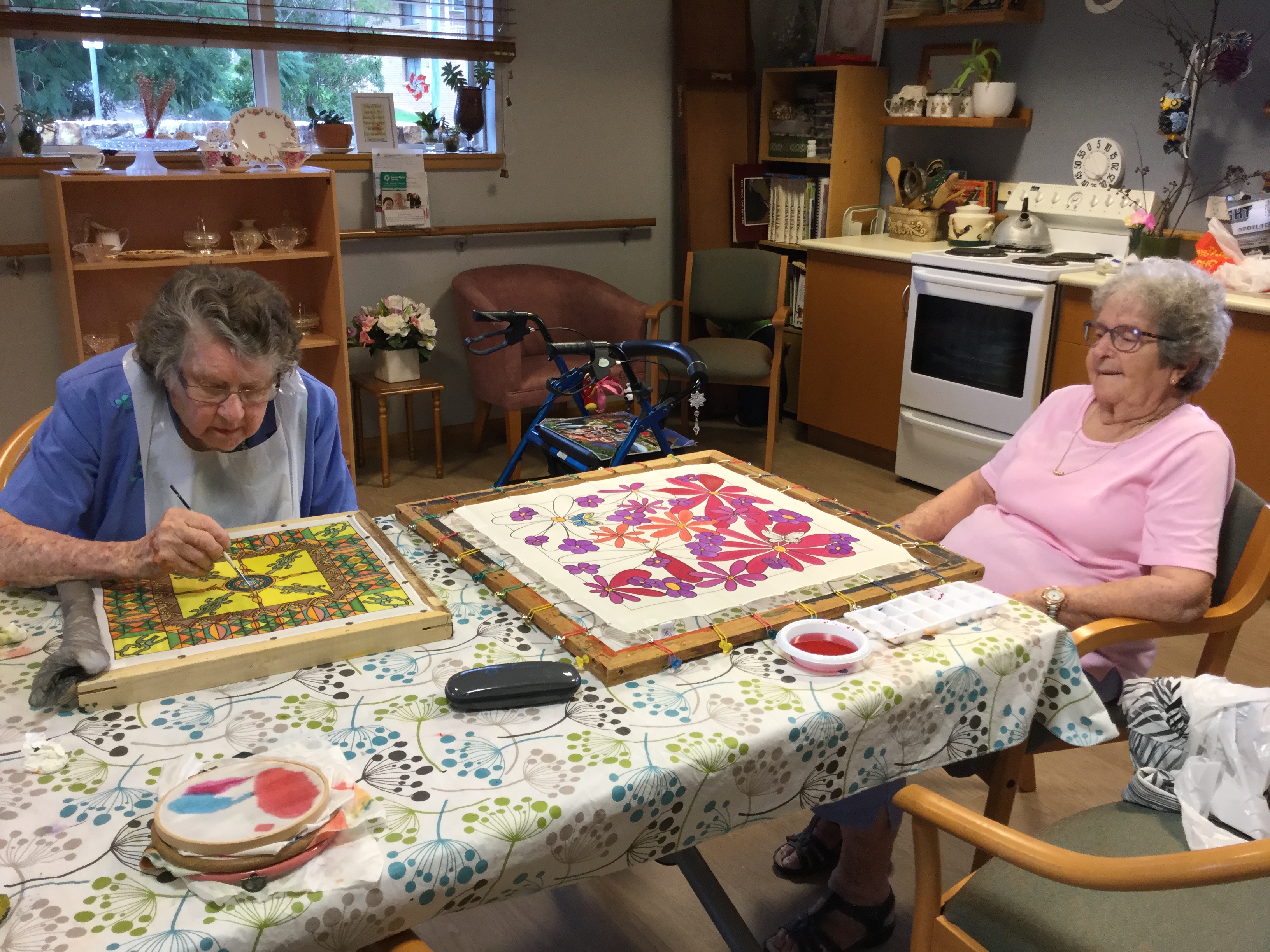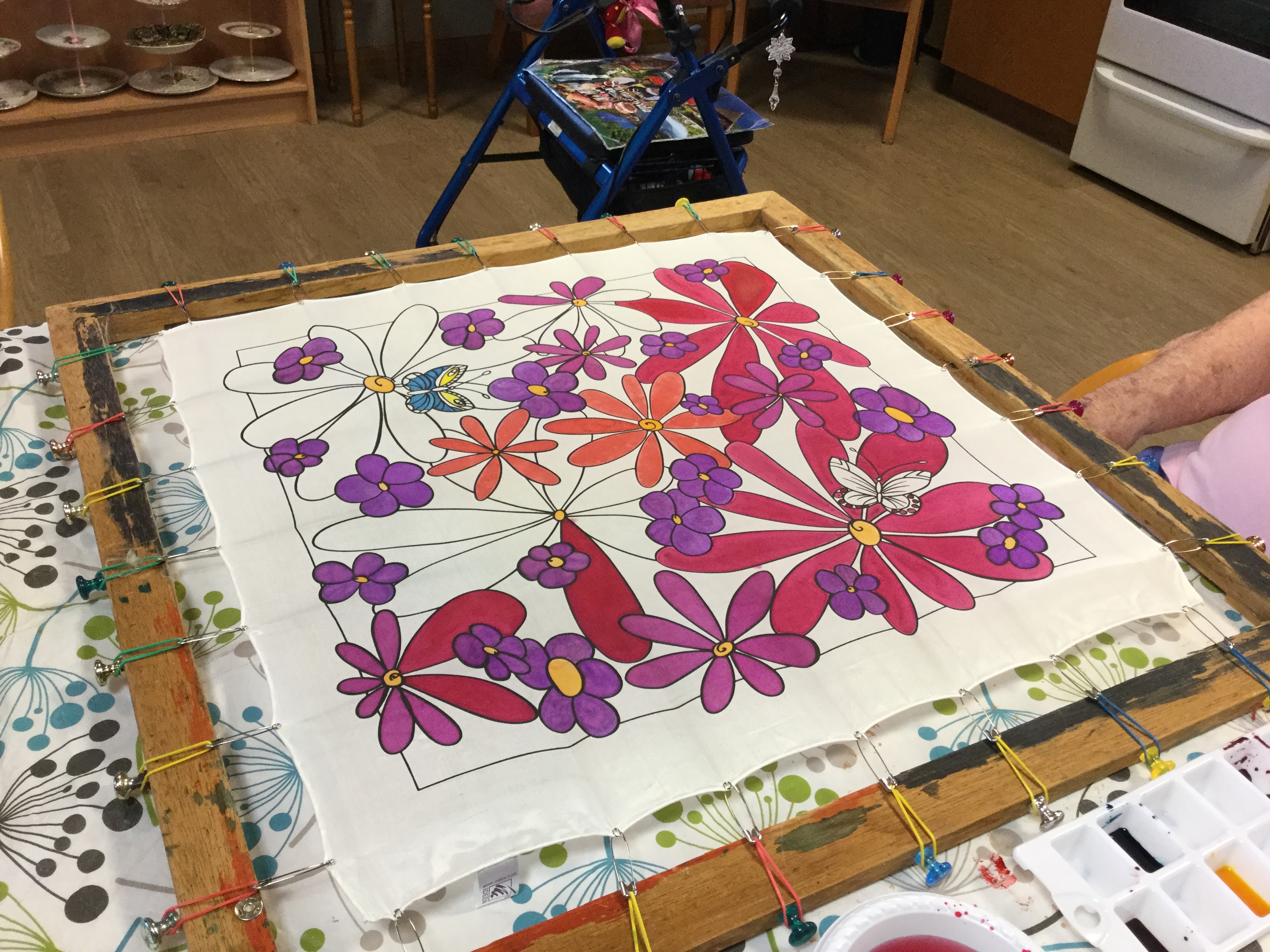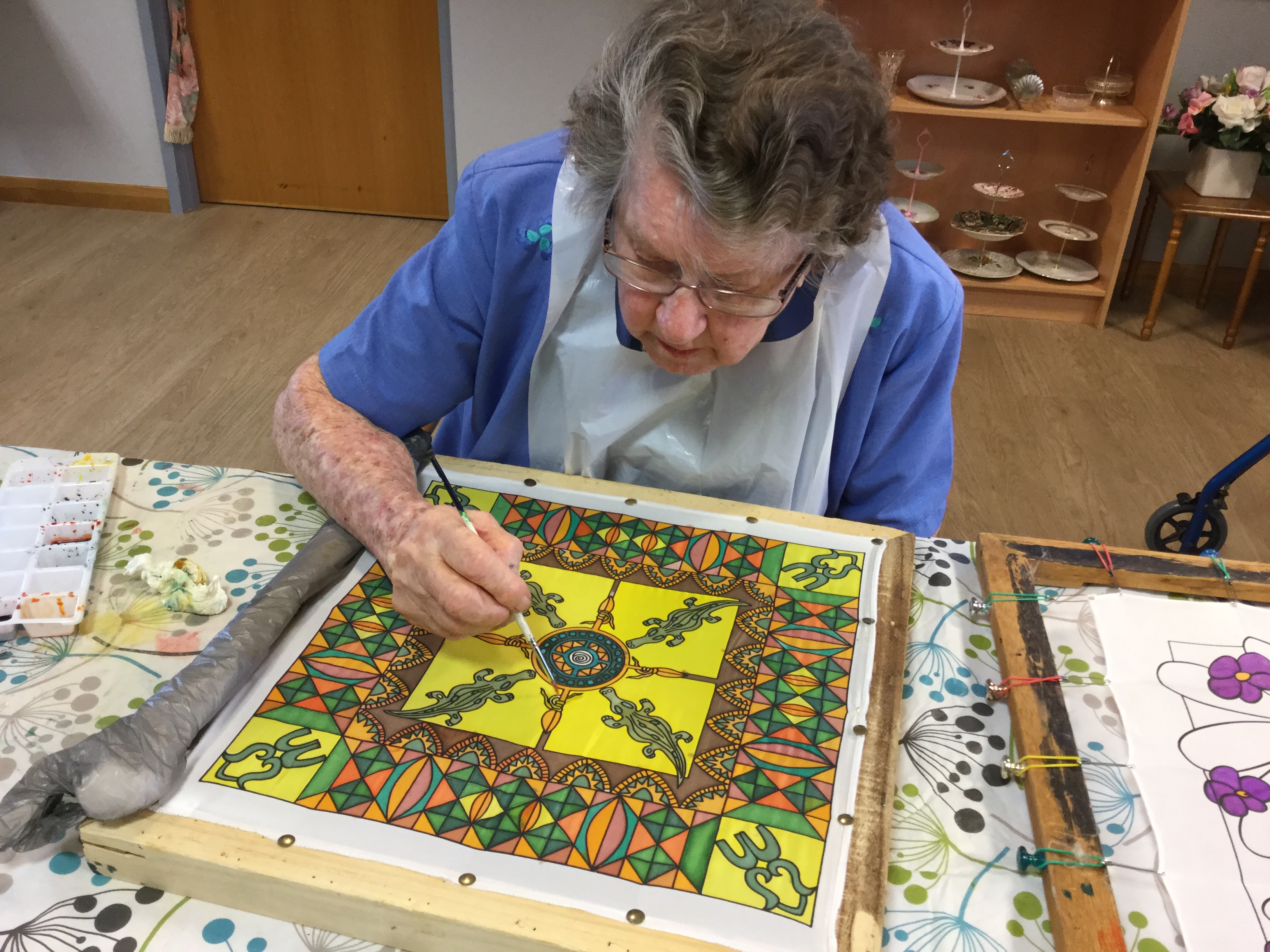 I selected a long scarf for myself to complete which was later sold in their craft shop.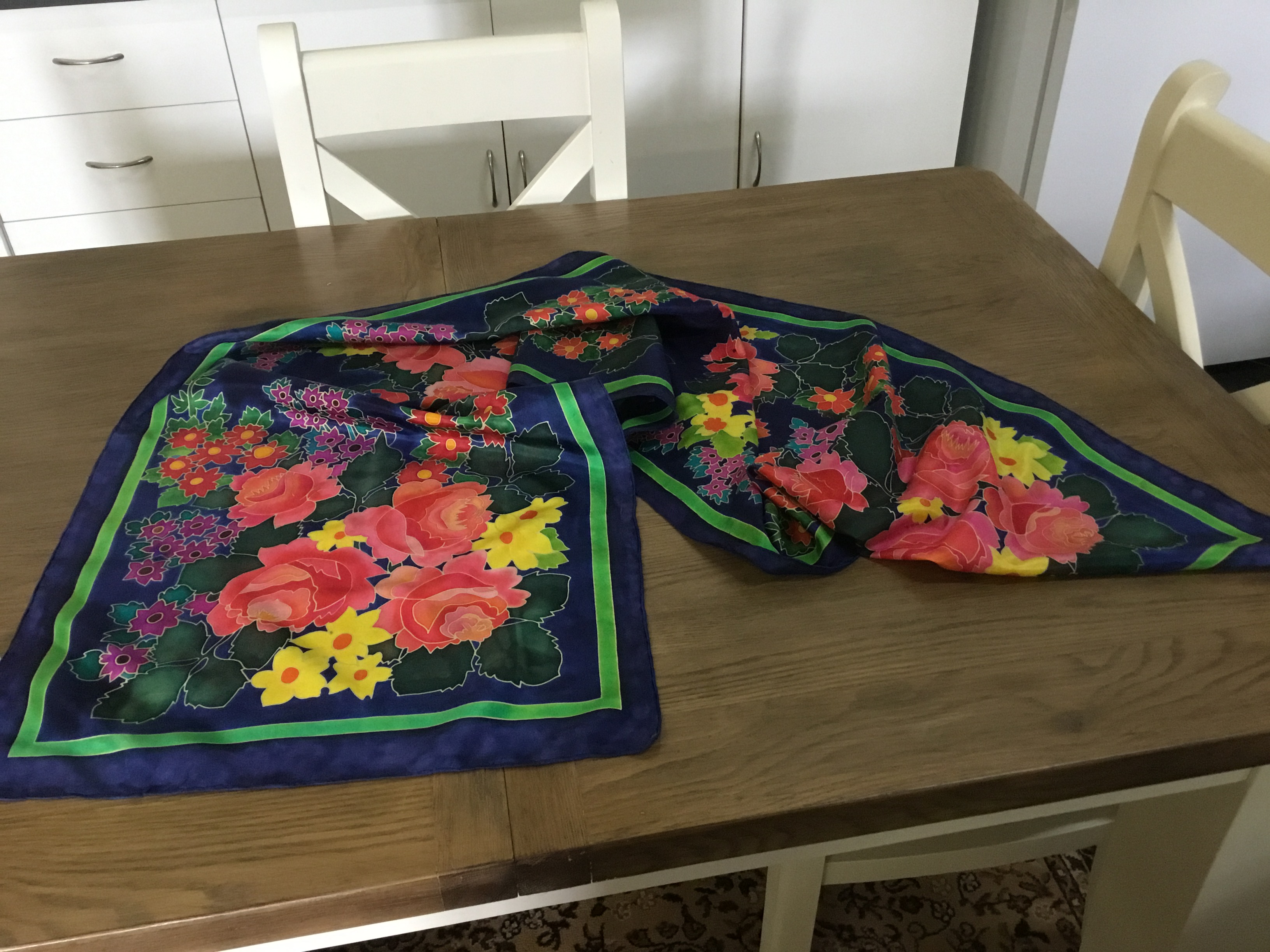 Over the next few weeks we got busy finishing these projects. We spent several afternoons, immersed in this tranquil and beautiful craft.
The ladies enjoyed this craft so much that I needed to come up with another project. It was time to get busy coming up with some simple designs!
Silk painting designs
I needed a quick project that could be finished in one afternoon so I bought some cheap square canvases from a local thrift store. I removed the canvas and used the wooden frames to stretch small pieces of silk. Due to time constraints and lack of gutta I decided to prepare the silk at home. I drew some simple floral patterns then outlined them with gold gutta.
I managed to recruit a few more participants and we had a very successful afternoon.
Finished Products
Of course there is a lot more involved in silk painting. The silk has to be steamed to set the dye then washed. I also had the dilemma of what to do with these small squares of fabric so I took them home to finish. I found some scarves that I had painted a while ago and used these to add to the project. This is what I came up with.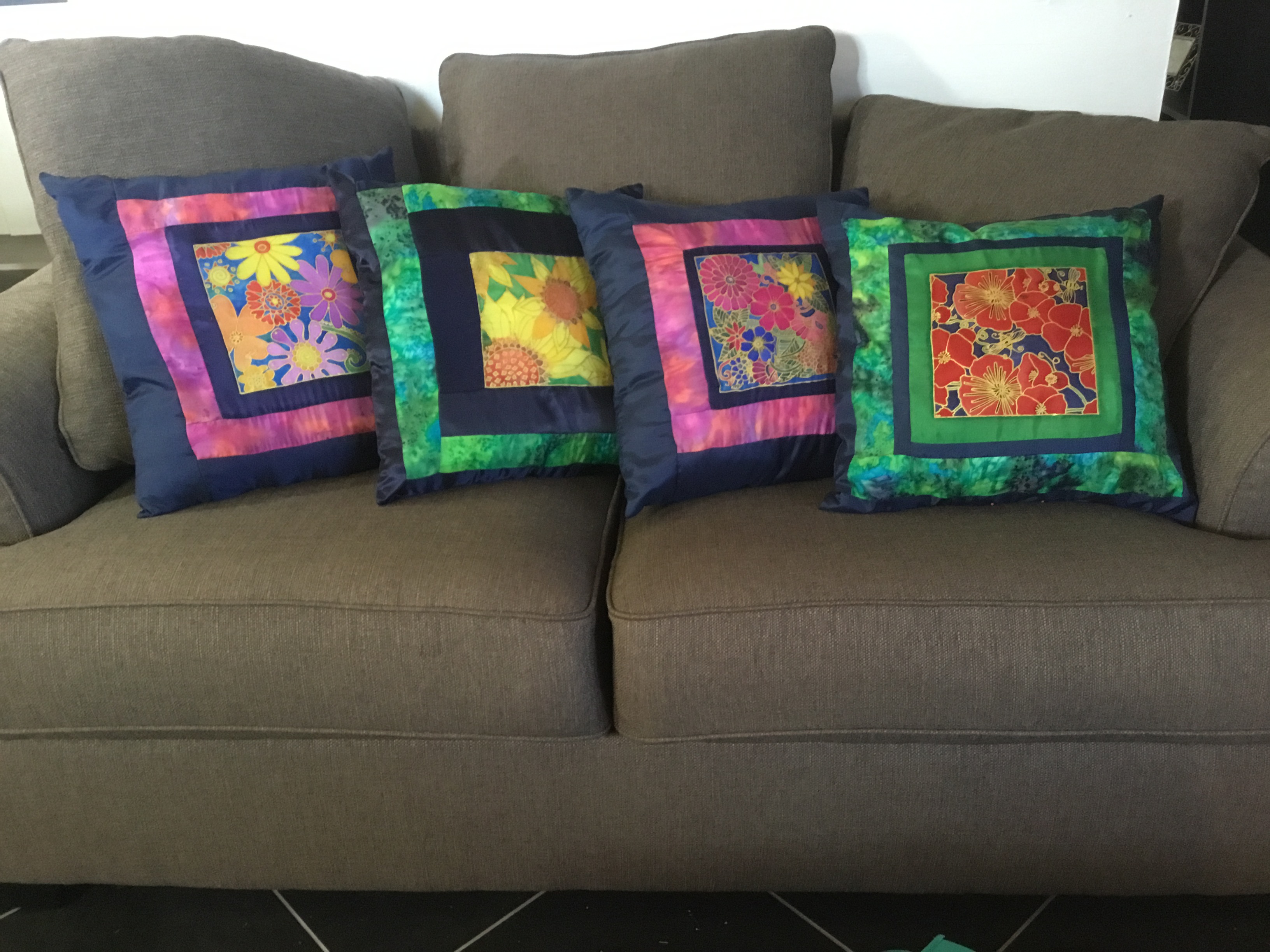 The ladies were delighted with their beautiful silk cushions.
You can see some of my silk paintings in the silk painting gallery.